"I've known Danny Strimer since we were both in our twenties. Considering my long-standing membership in AARP, suffice to say we've known each other for a few decades.
Over those many years, I've had the privilege of watching him grow as a songwriter and performer. Truth be told, I met Danny and his long-time songwriting partner, Alan Miller, on the very same day all those years ago. Lest anyone think my age has affected my long-term memory, I still remember the very first song they pitched to me. It was called "A.S.A.P." The song is still in my head – not because I have incredible recall, but because it has a very memorable hook.
That's the beauty of a good song. It stays with you long after other memories fade away. And that brings us to Danny's latest album, New Love Songs – Bossa Nova & Beyond. Once you've heard these ten songs, they're going to stay with you.
If you're familiar with lyricist Alan Miller's songs recorded by The Mavericks, Rick Treviño, and others, you're about to discover a different side to his way with words. It's not just any lyricist who can write Country songs, Tex-Mex songs, and songs with a Bossa Nova beat (and beyond). It's no small feat to write lyrics for any specific genre of music, but with these ten new songs, we get to hear Alan's sophisticated, Great American Songbook-inspired side. Check out these lines from 'Emerald Paradise' – 'Love keeps the secrets of a summer night/Love speaks of stardust in the pale moonlight/A destiny all of its own/Love is the constant unknown.' Those kinds of lyrics could have just as easily been written in the 1940s – which isn't to say they're old-fashioned. Rather, they're timeless and universal – the stuff of which great songs are made.
And then there are Danny's memorable melodies. I've been a fan of Bossa Nova ever since Frank Sinatra teamed up with Antonio Carlos Jobim in the late 1960s, so it's a real treat to get to hear some newly-created works in this stylish genre.
All of the songs you'll hear here are by Danny and Alan, but there are a couple of other writers on two of the tracks. Danny's lovely wife Lena contributed words to "(Could It Be We're Saying) I Love You," and Raul Malo of the aforementioned Mavericks co-wrote "Not Enough."
This package is more than simply a collection of excellent songs – the production and musicianship are absolutely top-notch, too. Pino Squillace not only produced the album with Danny – that's also him on drums and percussion, providing that Bossa Nova beat that helps to create the record's intimate ambience. With Danny on guitar, the incredible Jody Nardone on keyboards, and Brian Zonn on bass, this set has a consistent feel and mood that makes it a pleasure to listen to from beginning to end.
Sitting atop it all are Danny Strimer's smooth-as-silk vocals. With a voice like his, it's almost impossible to believe this extremely talented singer hasn't recorded a new album since 1988. It's great to have him back at last, singing New Love Songs – Bossa Nova & Beyond!"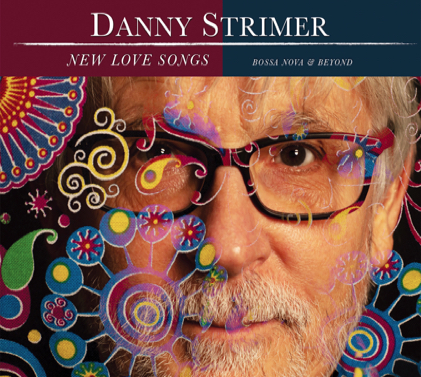 Thanks for stopping by!
– Danny Strimer ©
Contact Danny Strimer about bookings: